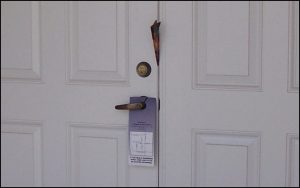 I am sick and fucking tired of cunts who seem to think it's OK to hammer on your door trying to flog you something and/or leave flyers/business cards attached to your front door.
With spring approaching and summer just around the corner, bastard shit brained companies think it's acceptable to employ morons to go door-to-door trying to drum up new business. Landscaping, tree pruning, pressure washing, roofing, sprinkler system installation, you name it. Not interested.
If they can't get you to answer the door, they'll leave flyers or business cards attached to your front door. I have a massive problem with that. If you're a burglar looking for a house to break into, you're going to want to choose one where nobody's home. Much less hassle that way since many homeowners are armed, including me! A sure sign no one is home is fucking flyers and business cards stuck to your front door and clearly visible from the street. Free local newspapers lying on the front path or lawn is another sign. We get those too. Didn't ask for them. Don't want them. And yet some cunt drives down the street and throws this crap at your house like they're entitled to do so. I've tried to get that shit to stop too and nothing works. Bastards! This shit is compromising the security of my home and these cunts don't give a shit!
I've placed signs on my front door before saying, "No flyers, business cards or solicitation of any kind. You are trespassing. Get off my property". And they still leave their flyers!!!
Sometimes the flyer or business card includes an email address. Big mistake. I sign them up for all sorts of weird and wonderful websites and mailing lists. These cunts are usually illegal immigrants from Mexico. For some reason, Mexicans hate black people. Not sure why, but it amuses me to sign them up for BLM newsletters, Black Panther social events, etc. Who knew BLM would be useful for something? I always use their business 'phone number when signing them up too. They're usually cell 'phones so it's good to know they'll be spammed as well.
This is just another form of entitlement where people think they can do what they like and you should just put up with it. There was a time when people's property boundaries were respected and you only approached someone's front door if you had a legitimate or prearranged reason for being there. Nowadays your front door is just another advertising hoarding for anyone and everyone who wants to use it. This should be illegal. Cunts.
Nominated by: Imitation Yank