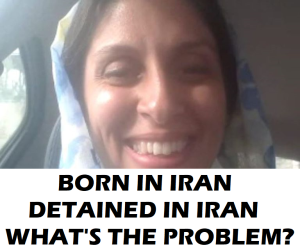 Thank fuck this silly tart has been released. Perhaps we won't have to put up with her fucking husband giving his woe is me speech. I have no doubt she will go back to Iran at some point and the dozy cow will get arrested (again) and locked up again.
Suggestion for hubby, fucking grow a pair and tell her no more visits to the mad mullahs.
https://www.dailymail.co.uk/news/article-10618677/Nazanin-Zaghari-Ratcliffe-released-Iran.html
Nominated by Cuntymort
Seconded by: Fuglyucker
https://a.msn.com/r/2/AAVbbeq?m=en-gb&referrerID=InAppShare
Nazanine Razzy Ratcliff/ whatever the fuck is back, i have been sick of hearing this cunts name for the last 6 years, she,s back she wants a week of privacy to try and reconnect with her family and then she,s going to be ear fucking us all for the next 7 years im sure.
700 million pounds down and we have back our new immigrant who isnt even a Brit ffs, she has gone over to that fly blown shit hole, allegedly spied, spread propaganda [ all denied of course ] got locked up, no smoke without fire i think and now her husband, who has been spanking the monkey for 6 years is reunited [ i hope she is worth it] how long till the divorce i wonder.
This fucker will be on the news non stop, i wonder how long it will be before she announces she is going back there, money well spent, excuses about paying debts for tanks in the 70,s is how bungling Boris is spinning this story, add it to the council tax scare crow boy.
Well im so pleased we have her back, fucking ecstatic, ffs, welcome back to our new cunt…..