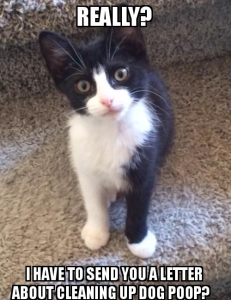 Dog owners/walkers who don't pick up fido's shit are cunts.
I feel quite lucky to live in a small village on the edge of the Lincolnshire Wolds. Population under 900. There are loads of public footpaths through field and woods and even along a small river.
At a guess I would say that a quarter of the population including myself are dog owners. Farmers working dogs, shooters hunting dogs, a very elderly lady 80+ with her collie which looks older than she does, other single pensioners mainly women with their toy sized mutts and me with my Jack cross. (mad as a basket of frogs he is chases any thing from ducks squirrels and leaves).
I reckon that 80% pick up fido's shit religiously; quite right too. Sadly simple maths means that about 40 cunts don't and that is a lot of shit being left and ignored. That is a cunt. what the fuck is wrong with these dirty lazy idle bastards?
I don't know but what I do know is they are fucking cunts.
Link below is just a story about my moan not relative to my particular area but just in support of my thoughts on these cunts.
https://www.somersetlive.co.uk/news/somerset-news/council-dog-owners-poo-mess-2627037
Nominated by: Everyonesacunt