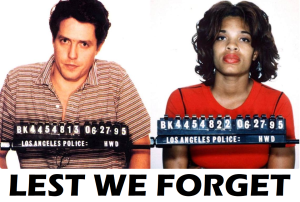 Another nomination for that hoity-toity-upper-class-twit, pansy, and waste of skin that is Hugh Grant.
Here we all are, us plebs at least, facing a looming cost of living crisis thanks mainly to the Chinks and already escalating fuel prices and then, on top of all that, the Ivans are trying to kick start WW3 causing sanctions on oil and gas supplies engendering stratospherically high fuel prices in the absence of any reliable home based energy fall back strategy in the U.K. and mainly due to the non-democratic implementation of Net Zero goals by the Government. In the face of the Net Zero debacle a certain Mr Nigel Farage has begun campaigning for a referendum on the issue (started before Mad Putin went full tonto). Grants response? "Go fuck yourself!"
Waste of skin doesn't even begin to adequately describe this over privileged, talentless, narcissistic wanker. He won't be left wondering if he can manage to afford to keep warm by getting fed from food banks, not paying the council tax and heating one room in the house.
Does he have links to any of the oligarchs? Can we sanction this cunt as well please to let him experience a little "reality".
Nominated by: Mikdys
Seconded by: Lord of the Rings
None of these overpaid virtue signalling cunts live in the real world.
Put them in a council house on £25grand/year. No accountant to avoid income tax, council tax, capital gains tax. Give them shitty internet, leaky windows and rising damp. A 20 yr old vauxhall vectra, make them eat ready meals from Farm foods, and try to heat their luxurious new abode with a 25yr old baxi boiler, rusty rads and a gas fire that sends 80% of it's heat straight up the sodding chimney. Put reality spy cams in and watch them trying to decide whether they pay their rent, their extortionate energy bill, pay for a clutch in the car or try to order fresh organic Avocados from Waitrose online, only to discover they don't deliver to the area as it's too rough.
That or give Grant a flintlock musket, put him in a Napoleonic tunic and ship him to the Ukraine, telling him it's to shoot a new film…Cunt !