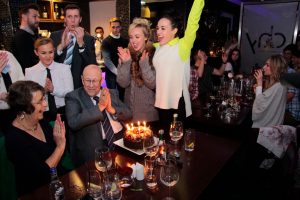 I'm rapidly running out of places to eat because I cross off places that sing happy birthday or some other shit to cunts who are celebrating.
We ate at a Turkish place last night and the fucking loudspeaker blurted out 4 times for some cunts birthday.
Sometimes a little cake with a candle on is presented and this is duly followed by clapping and cheering.
The recipients nearly always look embarrassed by it so why bother. Just let them eat their meal and fuck off.
If I'm not mistaken singing happy birthday is illegal anyway or used to be as it's still under copyright.
Happy Birthday Copyright Link
(Fabulous link provided by – Part Time Admin – PTA)
I reckon that Marie Antoinette started it all. Fucking frog.
Sorry no link, it just pisses me off.
Nominated by: infidelgastro
Seconded by: Geordie Twatt
I'll second this. Noisy bastards celebrating something not worth celebrating are complete cunts.
In particular I'd single out an authentic Burns Supper complete with piper for particular opprobrium. What the fuck is there to celebrate about a tax inspector who penned a bit of doggerel anyway?
Then there's all that fuss about a bag of minced sheep's offal, and some cunt in a skirt does his best to burst everyone's eardrums. I know some people who subject themselves to this torture every year who even have no family connection whatsoever to Scotland, stupid sods.
Point of order, however. Marie Antoinette was Austrian, not French.