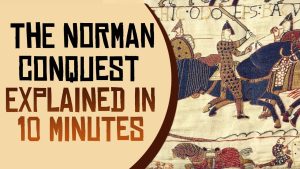 The so called "Norman Conquest" and what a load of nonsense it really was.
It has been alleged by some so called "historians" that William the Conqueror scooted over the English Channel in 1066, did a bit of invading and took over the Country.
I have often suspected this was nonsense made up by Frenchies who are jealous of our burgeoning deodorant and shower products industry and hate the fact that the British are taller, better looking and harder.
And it turns out I was correct – I was recently skulking around Sir Fiddlers vast Country estate stealing turkeys and Christmas trees when in an abandoned building I happened across some ancient documents written at the time by "Kev ov Hastings" and a newspaper report from Ye Daily Mirror clearly stating what really happened – a drunken German accidentally wandered across the border into France, the dreadful smell of the place being temporarily obscured by the strongly flavoured "Schnautzerhimmel" sausage he was stuffing himself with at the time.
Upon seeing him the entirety of France immediately surrendered with a few of them, all coincidentally called "Norman", being so scared they stole some boats from Ye Olde Dinghy Invaders and scooted over to Hastings. They went to a bus stop to ask for directions to the nearest garlic farm, were bitten by a Staffie called "Tyson" and all went home. I have interroga, er, "chatted with" several people named Norman and they all deny taking part in any kind of invasion so that's good enough for me!
I am glad to be able to perform a public service by sharing this vital and historically correct information with you and as I am now putting the word "FACT!" in upper case letters I believe under IAC law this correction of history can now never be questioned!
However, a caveat – I believe my malevolently magnificent mind may be slipping – while I was finding out the info I kept imagining hearing a voice saying "Please help me – my name is Gemma, I am being held captive, please contact the police and my agent – I have money, lots of money"..
Nominated by: Vernon Fox