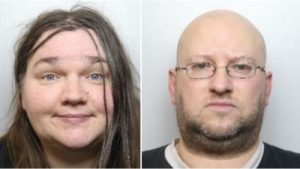 These 'people' are the mother and stepdad respectively to a 22 year old with severe autism.
Why are they cunts, you ask? Well, they locked said 22 year old in his room so that they didn't have to deal with his difficulties anymore, to the point that by the time he was found he was, according to the link, 'close to death.'
Obviously, looking after someone with such complex needs is difficult, but that really is no excuse for their behaviour. Hell, you certainly wouldn't find myself or any other member of my family doing this with my brother, who has similar needs.
Fuck them – I hope they rot in jail for the rest of their miserable little lives.
PS: the lad is thankfully doing alright now in case any cunters were wondering.
Nominated by : OpinionatedCunt