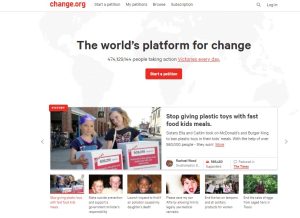 I'm not saying Change's public petitions aren't a force for good, or at any rate can be. If the issue doesn't run counter to the self-interest of the Establishment, and it receives healthy support, I'm sure the petitions at least provide Troubling Public Issues for the tabloids to sell papers with.
But they're not the same as Government petitions, and they have no legal force. There is no automatic scrutiny in Parliament for sufficiently popular gripes. Incidentally, you can search in vain for a government petition regarding Asmodeus's Garter knighthood. Was this because no-one tried to start one? Pull the other one.
And if someone wants to dilute the force of a perfectly good petition on Change, they can simply start another one with similar wording to confuse anyone typing, let us say, f'r instance, "Blair+ knighthood + change.org" into the search box. Doing just that, I found six such petitions additional to the original ( <i>"Tony Blair to have his "Knight Companion of the Most Noble Order of the Garter"
rescinded"</i> : 701,467 signatures at this time)
and those caught an additional (perhaps) 117,915 signatures between them, counted a few minutes earlier.
I submit that Change.org is a cunt for failing to amalgamate petitions on identical topics, and that it should take a leaf out of our revered Admins' book to remove confusion. A small cunting perhaps, but a sincere one.
Nominated by: Komodo