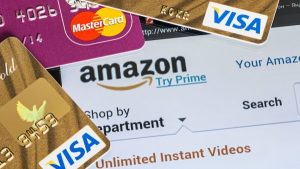 Seems that Amazon may no longer allow its customers to use Visa Credit Cards when paying for items from its site. The reason Amazon gives is because of "the continued high cost of payments in terms of fees charged."
This will take effect from 19th January 2022.(This only affect Visa Credit Cards and not Visa Debit Cards or Mastercard etc.)
The problem involves Visa increasing its fees, and therefore Amazon retaliated by slapping an additional 0.5% surcharge on all Visa Credit Card purchases in Singapore and Australia (with more countries to follow).
Inevitably, the loser is the Amazon customer in both countries, stung with the Visa fee increase, and the Amazon surcharge on top.
However, more closer to home Visa slapped an additional 1.5% fee on cross-border payments between the UK and the EU purely because of some EU loophole that suggests there is no longer a cap on fees for countries who are no longer a member state.
Therefore, Visa, can run roughshod with British consumers when they use their credit cards, and not just for Amazon purchases.
That said Amazon does have a close affinity with rival company, Mastercard. Amazon's own credit cards are underwritten by Mastercard, and by pushing Visa out of the frame it means Amazon/Mastercard has a nice monopoly going on that the Office of Fair Trading (or whatever the fuck they're called these days) need to take a look at.
Whatever happens, the customer will probably end up being shafted one way or the other. Amazon is worth £1.7tn, Visa $400bn and Mastercard $320bn as of 2021. It would be interesting to know how much corporation tax these cunts pay to the UK Treasury?
So not only can the UK public look forward to a whole raft of price/tax increases next year, this will just add to the misery index forced upon the Little People, while the rich cunts laugh all the way to the bank!
Anyway, if you have a Visa Credit Card linked to your Assizon account be aware that it may no longer be valid come 19th January.
Nominated by: Technocunt