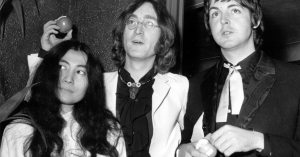 I've been watching that 'Get Back' documentary series about the Beatles this week.
Quite interesting so far, I like the way they've 'HD'd' the film. Very clever.
However, it showed them jamming whilst writing 'Get Back'. They then started slagging off the great Enoch Powell and sticking up for the Joe Dakis in a verse. This seemed to wake Lennon up from his drug filled malaise who was doing a few 'Yep!' right on type chants once this started. Yoko was there the whole time too, to wipe his face like a baby, mostly it seemed. You just wanted one of the others to do a Spinal Tap and shout "Why is your fucking girlfriend always here?!"
But back to the point of the nom.
It's easy to talk about shite they know fuck all about. Heck, the fuckers couldn't wait to leave honky Scouseland, let alone once the dark keys and Dakis arrived.
I bet they'd have stopped the sneering if they'd had to live in Bradford after the invasion, instead of in plush Noo Yoik penthouses and mansions?
And John Lennon ordered a white wine during rehearsals. Disgraceful.
What a bunch of henpecked NIMBY whiny cunts.
Nominated by: Cuntybollocks