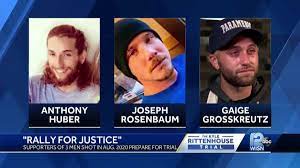 He's innocent, Fuck the MSM.
CNN won't shut up.
Cunts
@admins Please add this.
A white guy killed two white guys and injured another white guy but the knee grows are upset.
What the fucking fuck?!
Nominated by: Dark key cunt
Nomination fleshed out by OpinionatedCunt
To add to DKC's musings on the Kyle Rittenhouse verdict:.
For cunters who don't know, an at the time 17 year old named Kyle Rittenhouse went to Kenosha in order to help protect a friend's business from rioters. Whilst there, he was pursued and attacked by three convicted criminals who were amongst the people rioting, and ended up shooting at them, killing two.
All through the trial, the usual suspects have effectively carried out a witch hunt on the guy, painting him as a cold blooded murderer with intent to kill. And yet, despite that, the verdict is in: NOT GUILTY ON ALL COUNTS. As an addendum the reason the verdict is so significant is because a conviction would've effectively meant the beginning of the end of the right to self defence in the USA.