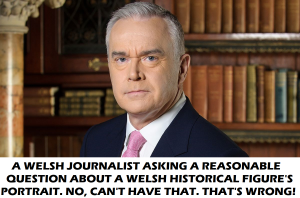 "BBC News presenter Huw Edwards is 'being spoken to' by bosses after he wrote that he felt 'uneasy' about a museum removing a portrait of an Army general due to his links to slavery."
What Edwards actually twatted was:-
'As a journalist I feel uneasy about this element of "censoring" history.
'Should not Picton remain on display as a reminder to Wales of an aspect of its past – no matter how disgraceful?'
Yes, fucking outrageous. How dare he express a mainstream opinion which jars with the overpaid Tarquins and Jemimas in Saville House. Which is not in Wales but fucking London.
Not like the completely unbiased opinions of Lineker and co. Which dont seem to require 'being spoken to'.
NB Picton was killed at Waterloo fighting for his country. He was a product of his time.
Fuck the BBC. Then defund the fuckers.
Nominated by: Cuntstable Cuntbubble