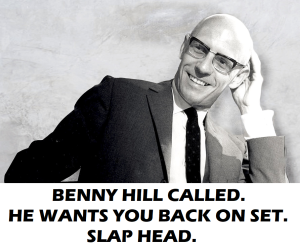 Michael Foucault, post-modernism and critical theory.
Foucault was a trendy French philosopher, much admired on the campus and in Islington and Greenwich Village, NY. He's probably one of the most influential philosophers ever and his thought, together with his person, are utterly contemptible.
Foucault is the godfather of woke post-modernism. Post-modernism gave birth to 'critical theory' which promoted the rejection of the individual, Western civilization and all objective reality. Instead, Foucault regarded society as comprised of identity groups locked in power struggles between the virtuous 'oppressed' and their demonic 'oppressors'. This in turn gave rise to critical race theory and all the shite we have to put up with today, shoved down our throats by the BBC and the Labia Party.
Post-modernism and critical theory led to a new kind of scholarship, which ignores questions of truth and rationality. The result is that most establishment academics, politicians and journalists steeped in this viewpoint reject objective reality in favour of the current trendy liberal narrative.
Critical Theory, and postmodernism are viciously destructive philosophies. Which may be why the recent news that Foucault molested little boys while teaching in Tunisia in the late 1960s is as unsurprising as his fondness for legalizing paedophilia, his publicly expressed interest in sadomasochism and his death of AIDS in 1984.
Today Foucault's woke offspring are just as elitist as he was, but they now use their control of media to promote moral degeneracy. And with equally poisonous results.
And it's all thanks to a pernicious and false irrational brand of French pseudo-philosophy.
I always preferred Descartes. I cunt, therefore I am.
https://www.aljazeera.com/opinions/2021/4/16/reckoning-with-foucaults-sexual-abuse-of-boys-in-tunisia
Nominated by: MMCM