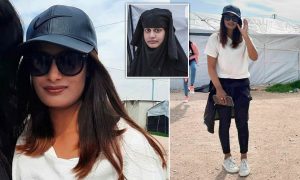 (A emergency cunting for this duplicitous piece of shit – Day Admin)
The vile Isis whore is speaking on GMB now, about how sorry she is, for all of our misinterpretations of her actions and that she was forced into doing what she did.
She is calling the British secret service liars, and all the bad things are made up purely to paint her in a bad light.
She is begging for forgiveness and pleading that she should return to Britain to face trial, which is only fair, and is willing to give information relating to terrorism to smooth over any ill feeling.
You can tell by the interview that she has been schooled as to what to say in a last ditch attempt to return to the country she hated. She is losing her composure when the interview is not what she expected.
Probably told she could fool the British public by her lawyer, no doubt paid for by the British tax payer, by dressing in a western manner and wearing make-up. The disguise is so thin a blind man on a galloping horse could see through it.
The overwhelming majority of people getting in touch with the program are telling her to stay there and rot, and full marks to Susanna Reid and Richard "thieving" Madeley, who are having none of it.
Nominated by: Duke of Cuntshire
(Not defending her but it seems ironic she's barred from entering this country while 1000s of Afghan and Dinghy cunts get a free pass, allegedly – Day Admin)
---
And then there's this from Fuglyucker
Shammishitta Begum, Fucking hell I've just seen a video of this ISIS spunk receptacle asking for the British people to forgive her.
Now exactly what are we forgiving the cunt for, could it be running off to some fly blown shit hole to breed terrorists, or stealing a passport, or helping terrorism against the very country that carries her and her family of benefit scroungers, or trying to work the legal system to get back into a country filled with people who wouldn't piss on her if she was on fire.
Are we meant to forgive her for her treason and the fact that if she ever gets back here she could never be trusted not to incite terrorism and start chopping off infidel cocks.
The cunt should be banished forever in my opinion, she can never be forgiven, the same as all those other cunts who are already back here can never be forgiven, its a crying shame they didn't all get blown up in an airstrike…..
Fuck off Shammishitta you gormless cunt…
(Never fear, the wokes will look after her:diversity is strength etc – Day Admin)