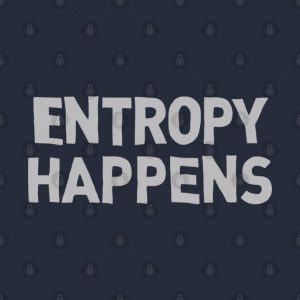 I've come to the conclusion that entropy is a right cunt.
Egghead types indicate that it's all about the degree of disorder or randomness in a system; something to do with the Second Law of Thermodynamics. Gradual but inevitable decline into disorder is the order of the day, and apparently, will result in the 'heat death' of the universe in about a zillion years.
Okay you're thinking, this is all a bit esoteric to swallow with my cuppa and biscuit; what's he on about? Well guys and gals, entropy affects us all, and grinds us down slowly but remorselessly.
Earlier I went to get an egg out of the fridge but dropped the fucker, which promptly splattered all over my foot and the floor. Things move from order to disorder; try putting that egg back together. You can't, you just have to invest time and effort in cleaning the mess up.
Tidy up the living room and vacuum it. A couple of days later, and it'll be untidy and dusty again. Same with the car. Tiles slide down the roof. Fences rot and fall over. Cracks and potholes appear on your driveway. Window panes crack.
Entropy batters us all constantly. The only way to restore order (temporarily) is put work in. Fix the fence, repair the path, clean the house, fix the tile back in place… It costs you in time and effort, and often cash as well. But no matter how hard you try, entropy always wins in the end.
That's life, you might say, but I'm fucking sick of it. At my time of life, I want to put my feet up, have a drink, read a book, watch a film. I want to go down the Villa, and fool about with the wife while I still can. I emphatically do NOT want to spend what time is left to me painting, or unblocking a pipe, or washing the loo. As my daughter puts it, 'life's too short to stuff a mushroom'.
I hereby declare the Second Law of Thermodynamics to be a complete cunt. All in favour say 'aye'.
Nominated by: Ron Knee