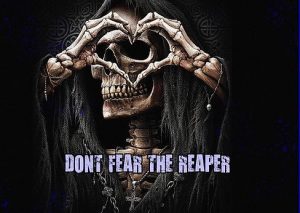 (Cue guitar intro to Blue Oyster Cult… yeah! – Day Admin)
A rather short cunting for The Grim Reaper.
In the last week the following all round good eggs have died:
Sir Clive Sinclair (81), Jimmy Greaves (81) and John Challis (Boycie from Only Fools and Horses) (79).
Of course I didn't know them personally and they might have been right swines on occasion but they were all good at what they did.
Many years ago Spectrum programming legend Jonathan Smith and Frank Sidebottom died within a week of each other. 2 of my teenage heroes gone. Dead.
It isn't fair and it isn't right that good people die too early. I wish I had a cloak of invisibility so I can evade this cunt for as long as possible.
Nominated by: Anton Pillar