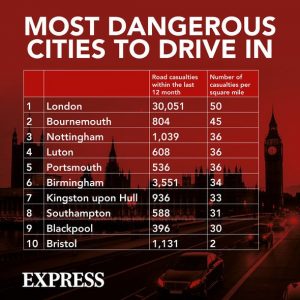 (Header pic stats from Dept of Transport 2020 – Day Admin)
Driving in cities is a cunt and never fails to annoy me, every fucking day there is a reason for my blood pressure to bounce off the scale.
Today Mrs Fugly and i on the way to work get stuck behind a fucking electric Porsche [there a contradiction in terms, like happily married or fun run} anyway mid life crisis man dosnt indicate one time for about 3 and a half miles, what a cunt, maybe he cant spare the voltage, but a cunt none the less.
Then there is a council van, has put his flashing lights on in a narrow street and with his tranny pick up blocking the whole street has fucked off into the tikkytakky shop on the corner.
Fucking yesterday driving along, there is a cyclist on the other side of the road the car behind the cyclist swings into my path head on to give the cyclist a big enough distance, we both have to slam on the brakes to avoid a head on crash on my side of the road.
When i had finished ripper her a new arsehole, i said wtf were you doing, and i shit you not she said what am i supposed to do, it hadn't ever crossed her tiny mind to stop or even slow down, just pull into oncoming traffic,, cunt.
Driving home the other day there are a bunch of kids literally sat in one lane of the road, on top of that you have cars rolling at 3mph looking for a house number or something, or some cunt on their phone once the lights have gone green and then give you shit when you toot, like its your fault their a cunt, or mother fuckers on leccy scooters riding towards you on your side of the road,or the cunts who cunt you up and then brake check you, or cunts who end up in a coned off lane trying to beat the traffic and the force their way into your lane and give you the finger, maybe i should get on a bus, hang on , no fucking way…
Normally i would say dont come to Cardiff but im sure there are much worse places out there with worse traffic and worse cunts….cunts,cunts all cunts
Nominated by: Fuglyucker