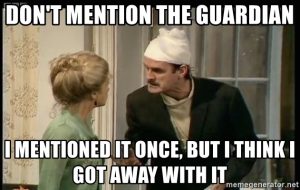 I'd like to nominate The Guardian.
Their "woke central" editorial is bad enough but now they are starting to have a go at pensioners:
Here's the thing about the "pension lock" though: it was brought in to partially address the UK's state pension being one of the worst, meanest, state pensions there is. It's designed to lift the state pension to prevent it lagging behind inflation due to a variety of factors including, believe it or not, abnormal increases in average wages.
Moreover, even were state pension to rise by the mooted 8% next year that would put somewhere around £42 paltry pounds extra in a pensioner's pocket each month. Maybe enough to cover the cost of the council tax and TV licence increases next year. That's right, £42 a month, not the £2,500 pounds a month some millennials have been scamming out of the furlough scheme. And this is only if the 8% is forthcoming. If not, then pensioners' income will continue to slide.
No doubt some middle class pensioners, of the type who probably read this toilet paper rag, have gold plated final salary pension schemes based on an inflated last year salary bumped up by their mates in the Civil Service having spent a working lifetime administering the fucking over of the plebs. These cunts could afford to lose the "pension lock". But for every one of these wastes of skin there are probably a thousand plebs out there struggling to get by on a state pension which pays 50% of the UK's statutory minimum wage.
I have a solution. Don't scrap the "pension lock" – euthanise The Guardian staff and its readers instead that will save much more money. Pure, unadulterated,
Nominated by: mikdys