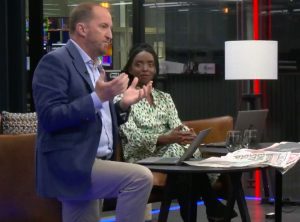 Tedious former BBC cunt took the knee on live tv and may well have signalled the beginning of the end, of what seemed like a promising alternative channel.
Harri bends knee during news broadcast
Looks like I'll just watch Sky Australia and TFI Global from now on.
Nominated by: mystic maven 
Seconded by: mikdys
One month in and it's gone woke
Best given a miss like the rest of the poxy MSM – total disappointment
And then there's this courtesy of Cuntstable Cuntbubble.
It didnt take long did it? These metropolitan cunts cant help it. Some cunt took the knee on air. Fuck me we know that the St Marcus graffiti wasnt racist, just pointing out what a useless cunt he is.
Which, naturally hasnt been given any BBC coverage. But it must be emphasised that we are a nation of racist cunts. So some nonentity takes the fucking knee.
Seems to have gone down like Huge Grant's pick up as GB News now records no measurable viewers.
I thought GB News was supposed to be a counter to the biased shite we get from the BBC. Apparently not. Fuck me drunk.