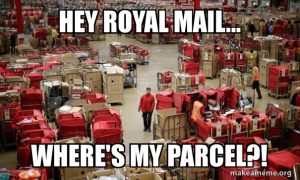 What a shower of shite this organisation is. Fucking dreadful and seemingly unaccountable, unless you go through a long long winded process that saps not only your strength but will to live.
Now they posted a new phone a couple of years ago to the wrong address, left it in my green house. I don't have a green house. After months of wrangling I got a sorry claim off the senders insurance.
Last Saturday they couldn't be bothered to post my parcel very small guitar gadget but left the collect from the depot next working day shite. This morning I go down arrive at 9am to read that it was open 7am-9am and will not open until 8am-10am Tuesday. What the fuck!!
Open for 2 hours just after dawn. Do these cunts think we are all postmen/milkmen. See the link for times verified.
https://www.royalmail.com/services-near-you/delivery-office/skegness-delivery-office-pe25-2aa
Utter cunts.
Nominated by: Everyonesacunt