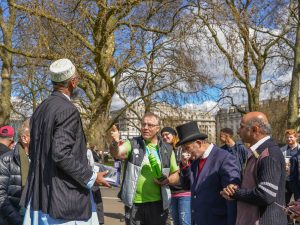 Speakers Cornner used to be a haven for free speech. It was established as such by Parliament in the 19th century. This world famous corner of Hyde Park was a place where a variety of individuals, from harmless eccentrics through to suffragettes and serious politicians could mount the stump and make their case. They would either be ignored, politely listened to, applauded or heckled – but usually in the good natured way that was a mark of British tolerance.
Speakers Corner said something about us as a nation. That you were free to speak your mind on no matter what topic. Political debate, conspiracy theories, religious debate were all permitted. It was long a favourite haunt of enthusiastic, but harmless, Christian preachers.
Over the past couple of years I have passed Speakers Corner a number of times. Every time I have passed it there has been a huge gathering of Peacefuls standing around looking shifty and glaring at passers by in a hostile way. There is always some Peaceful delievering a harangue in their gibberish language.
The Peacefuls look agitated, standing around and gobbing on the ground. Speakers Corner has in fact been entirely taken over by Mudslime extremists and any Christian brave enough to preach there is heckled in an insulting and aggressive way and will be lucky to escape without having GBH committed upon his person. One Christian preacher that used to go there regularly has been warned to stay away by the Police as the Peacefuls have threatened to kill her.
Speakers Corner is now a Mudslime enclave where the Police protect the Mudslimes and remove anyone who might be critical of them. Another great British tradition destroyed by Mudslime cunts.
https://www.conservativewoman.co.uk/sharia-law-at-speakers-corner-as-christian-critic-of-muslims-is-removed-by-police/
Nominated by: Marvellous Mechanical Cunting Machine