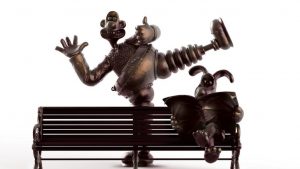 The sheer insensitivity of Preston, Lancs.
Wallace and Gromit are set to have their own "cracking" statue in animator Nick Park's home of Preston.
I am already organising a mob of like minded ER types to tear down this abomination and throw it in the river Ribble. I think BLM may also be outraged.
These cunts are veganphobes. They blatantly champion cheese ( ' Wensleydale, Gromit'.) Wallace's knock off, Gwendolin, owns a wool shop. And is white. Sean the sheep has been ruthlessly exploited by these cunts. They are also white supremacists, except Gromit. No single actor of colour has ever appeared in their propaganda films.
Need I say more.
Preston is a cunt.
Nominated by: Cuntstable Cuntbubble