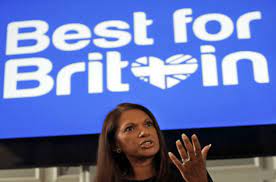 This ultra-remain organisation was founded by, among others, Gina Miller of late and unlamented fame. There's no need for me to set out what's it's all about. You can see for yourself from its risible website.
It's also landed on a terrific wheeze to console crestfallen remainers. If you ask nicely, and preferably make a donation, then on the July 23rd fifth anniversary of the leave vote, you can have your name projected onto the side of one of the EU's ugly buildings in Brussels, saying how much you love the EU. These are called "message of hope" but "messages of hopeless cunts" would be closer to the truth.
Since the proposed second referendum collapsed, Best for Britain has been struggling to keep in the limelight. This is their brilliant solution.
Knowing how much we all love the EU on ISAC I have asked for ISAC's name to be projected on 23rd July. Only kidding!
What a bunch of cunts.
https://www.bestforbritain.org/
Remainer Game Plan for Brexit Reverse
Nominated by: Marvellous Mechanical Cunting Machine
and seconded by: Hard Brexit Cunt
I'll second this having read about it from the second half of Douglas Murray's commentary in the Telegraph yesterday.
https://www.telegraph.co.uk/news/2021/06/05/stonewall-lords-woke-training-industry-corporate-racket/
He made the rather amusing suggestion which follows.
"Unfortunately, I spot a glitch in the plan. For there is a single box for those who would like to have their name projected but do not want to make a donation.
I hate to plant ideas in anyone's heads. But might we not finally get some pleasure out of the pleasure-less "Best for Britain" crowd?
If for one night the buildings of Brussels 
were covered with the names of various serial killers and cartoon characters, then perhaps all sides could agree that it was a good thing that we left and call it quits?"