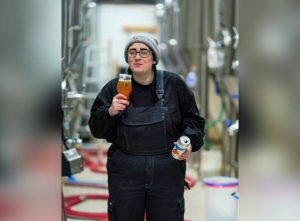 Not another BBC cunting I hear you groan.
Well this time it has managed to squeeze an angle into a story about the furlough and hospitality in sunny Wales.
Story is about the number of employees leaving hospitality for other jobs using three examples.
First, we have a Ms Zadroga from Swansea who explained it is hard work standing on her feet for 14 hours a day and wearing a face mask all day. Seems reasonable I hear you say.
The we get to example number two, a Helen Smith who appreciated lockdown because no one was shouting at her or touching her up at work. She could also spend more time with her wife…yep, you read that right. Now, Ms. Smith (obviously a Ms.) wearing dungarees and what looks like Mr Blobby's fat suit was touched by who exactly?
Are we talking by paralytic pissheads after 8 pints of Tennent's Super? Was it by her rug munching sisterhood? The BBC leaves us wondering who and more importantly why?
The only thing I could think would be touching her would be the tip of a Japanese whaling boat's harpoon should she decide to takes dip in the North Atlantic.
To me, this story should not be on BBC Wales, it should be on BBC Whales.
"Your BBC" guaranteed to slot in THEIR agenda with your money at any opportunity.
https://www.bbc.co.uk/news/uk-wales-57241370
Nominated by: Cunt Two Three 
And speaking of the BBC, this from Everyonesacunt 
The continuation of Black immigrant none stories in the UK press especially Al Beeb. Immigrants B lacks Indians etc are so important to Britain so says Al beeb et al. "How six Indian friends found their feet in the UK".. "Organising a Black Lives Matter protest changed my life"
https://www.bbc.co.uk/news/stories-57285369
https://www.bbc.co.uk/news/newsbeat-57170386
Okay I know it's been done before by myself and others. However, browsing through the b lack boisterous cunts site this evening back home in Lincolnshire after a W/bank holiday weekend at my daughters on the Yorkshire coast I feel my blood, piss and the rest of my bodily fluids boiling to eruption point once again.
I don't give a flying fuck and neither does any other cunt including immigrants about a gang of immigrants who made Britain their home in 1965. You hear me b b cunts.
Stop creating none stories just to push your colour immigrant agenda bias for fuck sake.. Even the immigrants must be fed up by now. 2nd generation ones I know are pig fucking sick of it, you hear that you cunts.
And as for the Bugger all matters bastards. Stop. just stop. please it is making things worse. I played with Black kids when I was a kid. Colour never never ever came into any of our thoughts and I am now 60. Now this shit is turning my rational thoughts to irrational ones. For Peters sake stop.
This reporting of utter pointless uninteresting racial shit is just done to promote one section of society above another stop it you fucking fools before it's too late. Cunts.