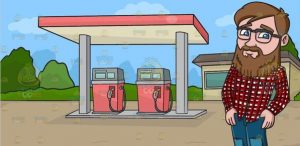 As I write this nom, I've just got back from filling the Quimsonmobile at the local garage, but being a stupid cunt I'd forgotten it's a bank holiday, so there I was fucking queuing to get in the place, when normally I'm the only cunt there filling up,
I got out of the car at my usual pump, and started filling up, as I looked around the forecourt I saw a sea of midlife, three quarter trousered cunts with sunglasses over their baseball caps, fucking hell gentleman, I didn't even wear shorts in Rhodesia until it was 26 degrees, but then I realised they're all strolling into the shop,
it's not fucking Tesco you cunts, if you want a wander around the shop, go over to the car park before going into pay.
here they come out then, bundles of fucking carrier bags full of fucking overpriced grub, strolling back to their cars where wifey hands hubby his balls back out of her handbag,
these metrosexual type "men" are an embarrassment to the human race, wifey does the shopping it's not the mans job in a marriage,
fuck the world truly is going to hell in a handcart, even sleepy Pembrokeshire is inflicting these cunts upon me, there was even a sööty there, buying chiggun strips, the modern world is fucked, I believe I'm the only sane cunt left!!!
Nominated by: Captain Quimson