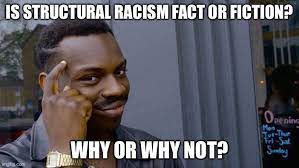 Bullshit that goes unchallenged.
People from a South Asian background were at even greater risk of infection, hospitalisation and death in the second wave of Covid than the first, compared with other ethnic groups, a study says.
A study published in the Lancet looked at health data from 17 million adults.
It confirmed that nearly all ethnic minority groups were disproportionally affected in the first wave in England.
But those from an Indian, Pakistani or Bangladeshi background were even more likely to test positive, need hospital treatment and lose their lives.
So far so good.
https://www.bbc.co.uk/news/health-56944739
However, we get this:
Based on their findings, the researchers are calling for more support to tackle what they call the STRUCTURAL RACISM faced by some communities. They said improved access to healthcare could increase the uptake of both testing and vaccination in the future.
This is how the structural racism works round our way.
Despite both mass vaccination centres being in Parking Stanley/Bangladeshi areas it is deemed necessary to send a fucking van round, equipped with vaccines, specialist storage and staffed by doctors and nurses. Banging on fucking doors.
Millions has been spent advertising and reaching out to stop these primitive cunts dying of ignorance.
The local Sikh temple is providing jabs as part of the community. The WHOLE community. Not just their own.
But the poor Parking Stanleys, who are discriminated against at every turn have to suffer having healthcare brought to their doors.
This is the unchallenged bullshit that is structural racism.
Nominated by: Cuntstable Cuntbubble