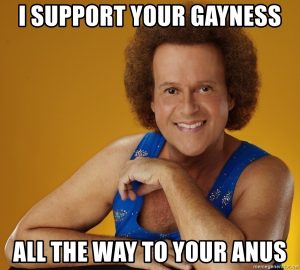 Gayness.
OK, I accept that you are gay.
The fact that you have sex with other men is a bit of a clue, but being gay is not a fucking competition.
You don't have to try to be 'more gay', there are no prizes for being 'the gayest'.
You want equality but you live your life as if you are in a Carry On film.
You take your inspiration from stereo type gays like John Inman, Larry Greyson and Julian Clarey.
You have decided to adopt a lisp, you now walk like you are chewing a toffee with your arse and you collapse into girlish laughter at the slightest innuendo.
You are now more than equal because if a heterosexual man were to act in such an overtly sexual manner he would be arrested as a pervert.
Stop holding hands with your boyfriend and kissing him in public at every opportunity.
Normal couples don't act like that, so why the fuck do you?
Nobody gives a flying fuck about your sexual preferences, so behave yourself and stop annoying the fuck out of me.
Nominated by: The Artful Cunter