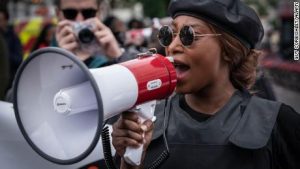 A bang-bang- you're not dead yet cunting please for the political wing of BLM (The Initiative Party).
Sasha Johnson, a leading light in the people of color (sic) party – ex Oxford graduate (where else?) goe to a party in that salubrious area of South London, Peckham – home of Del Boy. Sasha gets shot:
https://www.bbc.co.uk/news/uk-england-57223755
I suspect that more than naughty African Woodbines were involved…..
It's given me an idea though – let's arm Dame Kweer's shower of shit with guns, and get Alcoholic Ali Campbell drunk, and who knows, Mandy and his current squeeze might end up like Bonny and Clyde, 86 years ago yesterday…….
A nice thought for a wet Monday morning.
Nominated by: W.C. Boggs