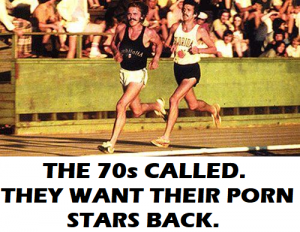 The ancient Greeks had the right idea. A laurel crown for the winner who would be paraded around on the shoulders of the admiring crowd, and the losers would be pelted with rotten fruit and banished from their home towns and villages.
Nowadays there are a whole host of sporting non-achievements.
Personal Best (PB)
Well you came seventh. If that's the best that you have done in your entire life then perhaps this event is not for you. You cunt.
Season's Best (SB)
Not even your personal best. You have done better in previous seasons so you are going backwards. You cunt.
Meeting's Best (MB)
You came sixth in the 400 meters at this stadium, but the 400 meters at the Olympics is a different distance from this one. You cunt.
National Record (NR)
You didn't even make the finals. Everyone else in your country is as shit as you. You cunt.
Silver and Bronze Medals.
Congratulations! You came second in the fencing competition. Here's your silver medal, but you do realise that if it was a real sword fight then you would be dead. You cunt.
Gold medals only. Nobody is interested in who lost.
Nominated by: The Artful Cunter
..and on a similar note, this from Twenty Thousand Cunts Under the Sea
Cunting in advance please, for any twat who goes to a "major sporting event" under the new normal rules as currently envisaged:
https://lockdownsceptics.org/2021/05/01/new-normal-sports-fans-could-be-banned-from-drinking-and-encouraged-to-stamp-not-cheer/
Taking the gift that never stops giving – woke footie – as an example…
Having paid silly cunt money to turn up at England v Azerbaijanistania in the Euro 20 (yes they are still called that in 2021) "round of 32/Group Stage", you are then treated to a Nazi wet dream as you are prodded and poked; your papers are checked; you are monitored to check you do not mix with others, hug to celebrate "a success" (whatever the fuck that might be), sing, drink, or share your fucking prawn sandwich.
Then, when the knee taking and virtue signalling is complete according to BLM guidelines the 0-0 draw can get underway. When the ninety minutes of indescribable shite is over you can then fuck off.
Have a great summer of sport you cunts.