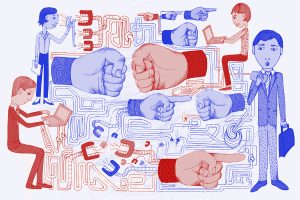 Politicisation on the dating scene is a cunt.
I'm a single chap on the dating scene, single mainly because I won't take any shit from wimminz who are cunts.
I still ( deluded as I am) use online dating sites in the hope of finding wimminz who might, just might be ok.
I joined Tinder a while back, and started the swiping thingy, left for fuck off, and right if she's got nice tits, and if she visits your profile and swipes right, then you're matched and can then message each other.
What I've noticed is, when reading profiles, how fucking aggressive some wimminz are. One profile in particular caught my attention. " if you voted leave, support Israel, vote Tory, like Farage, then swipe left. We wouldn't get on".
What the fuckety fuck has politics got to do with how well you could potentially get on with someone. Partners in a relationship should challenge each other's views, with respect, that's what being in a relationship is all about, so why make meeting someone ( which is difficult enough) by alienating half of your prospective pool of matches.
It seems that wimminz have a propensity to leaning towards the left, why? Fucked if I know.
In the end I had to write on my profile, " if you want to live in an echo chamber, then you can get yourself fucked off, because I won't be tolerating any of that crap ".
It certainly makes the case for fucking off to Thailand or Eastern Europe, and finding a missus, which so many Western women find abhorrent. The cunts.
Nominated by: Cuntington Smythe