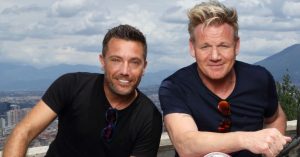 Gordon Ramsay and Gino D'Acampo deserve a double ended cunting for being a pair of boasting look at me cunts. I was talked into watching Gordon Gino & Fred's road trip by the missus this week (yes I know I'm a gullible twat) and I fucking hate these tossers even more now.
I haven't included Fred the Frenchman because he seems harmless enough, but the "Former Rangers player" and his woppie mate boil my piss.
Gino with his overdone Italian accent, overblown opinion of his cooking skills and believing he's some kind of sex god. As for Ramsay, he is the most arrogant, up his own arse cunt on tv.
Every time he speaks its "my Michelin starred restaurants" " my scallops are the best" "I'm so fit" "I've got a house in LA" "look at me in my Range Rover " And then there's the perverted desire to get their clothes off at every opportunity to show how "fit" they are.
The Italian spaz even got his knob out, though this was pixelated out, probably because he's got a minging little button mushroom of a belllend.
What a pair of cunts!
Nominated by: Field Marshal Cuntgomery