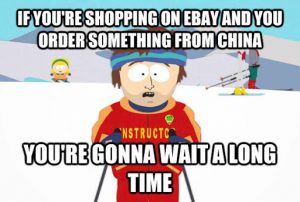 Ebay cunts based in China!!
Not only did these cunts infect the globe with their dog eating disease but they have taken over Ebay to a point where the site is infected forever.
Order something…..ANYTHING that is "based in UK" and low and behold you just gave your money to fund the next outbreak of live octopus pandemic!
And ofcourse you have to wait weeks for the shit to arrive.
I wonder if they dissinfect all these packages at Heathrow?
Ebay is the new plague spreader.
Nominated by: Kendo Nagasaki