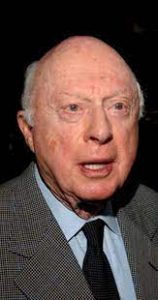 Congratulations to Lord biryani who correctly predicted that veteran actor Norman Lloyd would be next to conk out at the ripe old age of 106.Lloyd enjoyed a career lasting over 90 years and was known for collaborating with Alfred Hitchcock.He is also remembered for his roles in St Elsewhere The Age of Innocence and the Dead Poets Society amongst many others.
On to Dead Pool 214
Rules
1) Pick 5 famous cunts you think will conk out next. It is first come first served. You can always be a cunt and steal other cunters' nominations from previous pools.
2) Anyone who nominates the world's oldest man or woman is a cunt and will be ignored.
3) It must be a famous cunt we have heard of.
4) If your pick has already been taken, tough titty. Pick someone else because we can't be arsed to check.
5) New Rule: Nominations can only be changed if some cunt has beaten you to it and your nomination is invalidated. Otherwise, stick with your five until the next round.