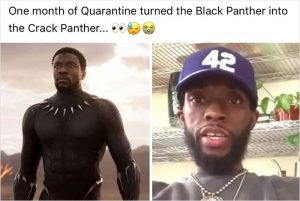 Chadwick Boseman didn't win an Oscar.
https://www.thesun.co.uk/tvandshowbiz/celebrities/14763640/oscars-2021-chadwick-boseman-robbed-actor-glenn-close-twerked/
People are actually upset that a dead black actor who didn't really appear in any good films (Black Panther was alright) didn't win an oscar and they gave it a veteran Welsh man who's been acting for 45+ years. I'm more surprised they had the balls to give it to Hopkins in this day and age.
But still it's an inspiring story for all, want to get an award? just die and people will demand you get one despite not achieving anything towards it. I hope when I die I'll get that egg and spoon race win I was robbed of in Primary school.
Hang on hang on
https://www.express.co.uk/celebrity-news/1427861/chadwick-boseman-robbed-oscars-2021-jo-brand-opinion-anthony-hopkins-win-nomination-video
Jo Brand's chipped in with her disapproval. Not that anyone cares what her opinion of Oscar winners ever was.
"Chadwick Boseman will remain one of the greatest actors of all time, with or without that Oscar," a second paid tribute.
A third added: "Damn Oscar or not, Chadwick Boseman will ALWAYS be one of the BEST actors and humans of our generation. He has set a legacy that cannot be competed with."
What legacy? what did he do? He was in 15 films (including minor roles). 4 of which were fucking superhero films. Donates a bit to charity and now he's Roger Moore. I know you're not supposed to add to entries but this pile of shit really annoyed me.
Nominated by: Lazybiscuits