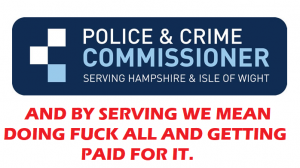 Police and Crime Commissioners are useless cunts.
On 6 May we will be able to vote for Police and Crime Commissioners (PCC) who will do fuck all for the next four years except get big salaries (there are 41 of the cunts ffs, all with big offices run by highly paid CEOs) and do as they are told by the Chief Constable.
I tried to think of an instance when our PCC had ever done anything to improve policing and reduce crime in our area. Unsurprisingly I could come up with fuck all unless you count making the police fucking invisible whenever there is any crime .
Nobody is fooled by these token elections for faceless cunts that we never hear of from one election to the next. The public fiances have been wiped out by the Covid fiasco and unprecedented levels of austerity are on the way. Surely PCCs are a luxury we can no longer afford? Time to pull the plug on these leeches?
https://www.electoralcommission.org.uk/i-am-a/candidate-or-agent/police-and-crime-commissioner-elections
Nominated by: Twenty Thousand Cunts Under the Sea