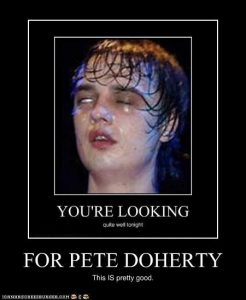 I nominate Pete Doherty for a monumental, full on cunting, the twat.
Now a huge fat bastard, he has the fucking nerve to refer to his partner in coke, sorry I meant crime, Kate Moss, as a " nasty old rag "
No, Pete mate, you're the nasty old rag, your hands weren't exactly clean, where they?
Tosspot, spitoon & clown.
Nominated by: Jessum Priest 
https://www.mirror.co.uk/3am/celebrity-news/pete-dohertys-wildest-flings-nasty-23799674