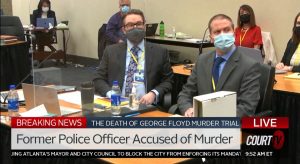 I've never really watched the channel before, but out of curiosity I started watching the trail of Derek Chauvin over the death of Saint George his most holy Floyd.
I was pleasantly surprised over the first week as the coverage was completed unbiased. The experts they had just went over how they thought the lawyers would present their cases, and explained court room procedure and language. Which is exactly what you'd want from unbiased coverage.
However, during the second week it seems they've been 'got to'. There has been a plethora of 'experts' brought into the studio when there is a break in proceedings. And they're pretty much all BLM types. I turned off when one frizzy haired chippy dark key bird was asked about the presentation of Chauvin's case, and her 'expert' reply (she was a defence lawyer by trade)? Something like "We all saw what he did. It doesn't matter how his lawyer tries to spin it. We all saw it.'
Why bother asking the cunt if that's her response? I would've stuck with their coverage had the rather smouldering Chanley Painter (yes, until her head went through the headboard) pushed her into actually offering some 'expert' insight instead of going full Chiggun BLM.
She let it slide (I've got something she can slide down an' all) and that was me done. Every cunt they'd had on in the second week had been a chippy BLM-er.
Court TV are a bunch of soft cunts, who've let the usual suspects scare them into biased coverage.
Well I'm not watching anymore. Unless Chanley Painter gets them out.
Fuck off.
https://www.latimes.com/entertainment-arts/business/story/2021-04-01/derek-chauvin-trial-brings-court-tv-to-a-new-generation
Nominated by: Cuntybollocks