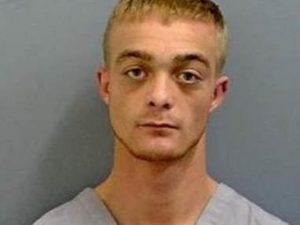 Who's that I hear you say ? Barry Price was Bedfordshire Police's 'Most Wanted'.
I saw this walking sack of shit on '24 hrs in Police Custody' – a vile dog turd, an evil remorseless scumbag, an absolute shithole.
Described by police as a "walking crimewave", the 23 year old pikey shouldn't reach 24 if there was any justice in the world.
We were first shown footage of the scrote stealing a motorbike (hardly Jeffrey Dalmer I thought) – it then turned out that the fucking turd rode the motorbike on the pavement, knocking down an 8 year old girl, who ended up in hospital with a 5 inch gash torn in her cheek – scarred for life.
Price "dah now nothing- nah comment"
We then saw footage of an elderly woman having her bag snatched as a motorbike tore by, leaving her thrown the pavement seriously hurt.
"Insufficient Evidence" the CPS concluded. Price swaggered out the station, huge grin on his cunt face.
I was by this point, trying to put my hands through the TV to throttle the arrogant fucking cunt.
In the end, the bastard got 18 years (will he serve 9 even?) for 2 rapes – a 15 & 16 yr old. His own dad told Police where to find him – it appears even some Pikey's have a line that shouldn't be crossed.
Why do we even bother jailing repeat offenders ? This is Price's 4th time in prison. He has no conscience, no remorse, no limits. He will never change.
Shoot the cunts with a captive bolt gun & toss the bodies in a cesspit where they belong. They are a scourge on society & a waste of good oxygen.
Nominated by: Lord of the Rings
https://metro.co.uk/2021/03/22/24-hours-in-police-custody-viewers-sickened-by-depraved-rapist-case-14287722/