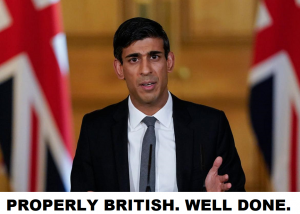 The billionaire Chancellor deciding who is going to foot the bill for all the taxpayers' money he's splurging on "Covid support". One things for sure, if anyone is going to suffer financially in the long term, it ain't going to be him.
This is also likely to be the thin end of a steeply ramped wedge with another budget due this Autumn when the bastard will likely start to really hammer it home. Looking like an extra from a woke Nick Park short Rishi wants to push us up the league table of tax v GDP* and get us further away from the USA at 24% and nearer the heady heights of Denmark at 46%. A paltry 33% just isn't good enough for this ex Goldman Sachs man.
The good news is the magic money tree has now been extended to become a magic money forest. But the bad news is you are all going to have to pay for planting it.
In case you missed the details this is where the pain will start:
Personal income tax allowance frozen from next year.
40% income tax band frozen from next year.
Corporation tax up from 19% to 25% (so much for using Brexit to cut tax for domiciled companies to compete with the EU and attract more investment in).
And… your Council Tax is likely to ramp up 5% as well this year (only 4 times the rate of inflation – better than the 200% increase that is waiting for some of you at the National Property Tax end of the wedge though!).
https://www1.compareyourcountry.org/tax-revenues
Nominated by: mikdys