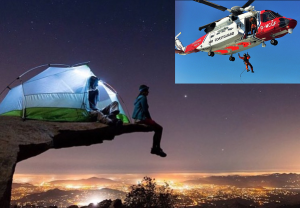 HM Coastguard service needs a finger wagging at….
They have issued advice about the dangers of camping close to a cliff edge, to a family camping right on a cliff edge, a cliff edge that has had previous subsidence problems, I may add.
The family concerned, a man 30, women 27 and child (age not given) have now been given a fine by plod for breaching lockdown rules too, for
travelling a fair distance to go camping on this cliff edge in the first place.
Why am I finger wagging in the general direction of HM Coastguard you ask? Well firstly, take a look at the pictures of this tent and its actual position on the cliff edge! Then secondly, because they should have left this stupid fucking family there and let nature take its course. Sounds harsh? Because of the child? Well yes but the cynical side of me thinks the poor child growing up with such halfwitted parents probably doesn't stand much of a chance anyway.
https://www.bbc.co.uk/news/uk-england-york-north-yorkshire-56239268
If plod used their imagination there are probably some sort of child endangerment charges they could use to give these clueless 'parents' a dose of suck on that too, for good measure as well! However the cynical side of me doubts they'll bother, probably too much paperwork,
Fuck off!
Nominated by: TheBestRevengeIsLivingWell