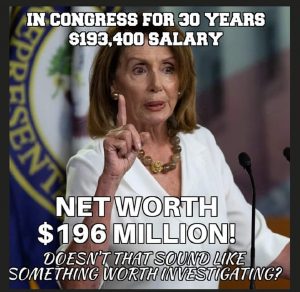 Well whaddayaknow. The husband of the little cutie (if you take a time machine back to 1964) that is Nancy Pelosi has made a killing on Tesla shares.
https://amp.washingtontimes.com/news/2021/jan/29/nancy-pelosis-big-tesla-stock-buy-raises-ethics-qu/
Of course Nancy knew fuck all about her hubby spending $1,000,000 on the shares. No sirreee Bob!
She was probably stuffing her face with another gallon of Ben and Jerry's wokeness and didn't notice Mr. Pelosi spending all that money. Or maybe not.
My original thought on this matter was to cunt NP for being, well, a cunt but she is being true to her rapacious self so I will let that lie.
I'm going to cunt the people who put her in a position where she can do what the fuck she wants and will carry on doing so until she draws her last breath.
Note to any members of the CIA reading this cunting:
I am normally out of bed by 6am so please let me finish my ablutions before you kick my front door in.
Nominated by: SimmyJavil
….and in a similar vein here's one from Smug cunt
Americans are cunts.Its pretty simple In fact its as simple as Americans. Their absurd Presidents with their executive orders and pardons show George III has been in the White House since 1776. Unfortunately the rest of the world has to suffer after their bullshit "elections" ,more corrupt than Indias or even Tower Hamlets.
Liar ,Congress woman Alexandria ocasio Cortez thinks she is oppressed and the dumb as shit American public doesnt know Madrid is only a thousand miles from London and is part of Europe.How does a Hispanic ( Spanish Cortez wiped out the Incas) get to pontificate about white supremacy. 80% of all slaves during the Atlantic slave trade (ended by England) went to South America. Her ancestors just like Ilhan Omar were slave owners. Omar is far nearer to slavery, war and genocide than anyone else in American politics.
So fuck you America. Thanks for your fucking poison. Cunts.
…backed up by Quick Draw McGraw
AOC was recently caught lying about being in danger during the recent "insurrection". She claimed that a mob had laid siege to her office, with at least one banging on her door. Turns out, her office was some distance away from the trouble, and the guy banging on her door was from the Capitol police. Not surprising really, it's not the first time she's been caught lying.
A couple of years back, she put some photos of her and her cronies, all dressed in white for some reason, outside an immigrant detention centre. They showed in several different poses of apparent distress at the depravation she was witnessing. Then the photographer released some photos he took from a different angle, which showed that they were, in fact standing at the fence by the car park. And not a single abused illegal immigrant could be seen.