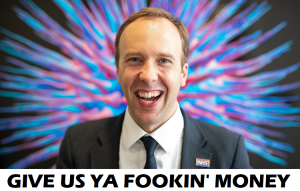 *** Emergency Cunting *** for enforced quarantine costs for returning Brits.
The shower of shit who run our country have just announced a mandatory period of 10 days quarantine for Brits returning to their own country from certain other countries on a so-called 'red list'. The UK wishing to protect itself by not inadvertently introducing more plague carriers is fair enough. What boils my piss is the returning Brits will be made to pay £1,750 for the privilege.
https://news.sky.com/story/covid-19-travellers-from-red-list-countries-will-have-to-pay-1-750-for-10-day-hotel-quarantine-12213267
So let me get this straight. British citizens, many of whom have likely done nothing wrong, will effectively be detained against their will for a period of 10 days and then be forced to pay the government for the costs of their own detention. Even fucking prisoners get free room and board for fucks sake.
Meanwhile, the unwashed, disease ridden, freeloading dinghy dwelling illegal scum continue to show up unannounced at Dover amongst other places. What happens? They get a sympathetic welcoming committee, free healthcare, free accommodation, free food, free whatever else they can get their parasitic hands on. And that seems to be OK apparently.
How about some of the taxes those returning Brits may have paid over the years be used to cover the costs of their effective imprisonment by their own government? Oh wait, there I go again thinking taxes paid by British tax payers should be used for the benefit of British people. Silly me. I forgot the UK is just a welfare state for the rest of the world. FOR FUCK'S SAKE! CUNTS!
Nominated by: Imitation Yank
(We had a similar nom for Matt Smallcock published a couple of days ago, but this one covers slightly different ground. Either way, he is still a cunt – DA)