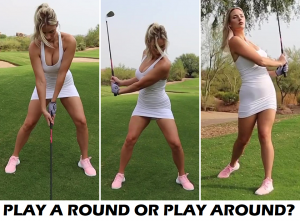 (There's a bet going on here at Admin Towers, on who will be the first dirty old disgusting degenerate on here to look up the skirt and/or down the cleavage of the young filly in the header pic, while totally ignoring the actual nom for about 10 minutes and 2 Kleenex later! – DA)
Not being able to play golf ??‍♀️ during lockdown is a fucking massive cunt.
Why the fuck can I go fishing ? too cold or shooting but not play golf boris you fat tousled haired fairy. ??? It is daft.
No reason to not open golf ??‍♀️ courses up to members. Not joe public. At let you play at your own club not at others with a regular playing partner. I sort of get travelling to other course could be conceived to increase the risk! But if courses were only open to members then this wouldn't be possible.
Open the courses up you cunt. I've paid to play at my course and have already lost 2 months that I'd paid for.
Golf courses shut to members is a cunt.
Nominated by: Everyonesacunt
Quick Draw McGraw made the cut with this:
It depends on the type of shooting. I can't go to my archery club, even though we'd be shooting outside and standing approximately 4 metres from each other. That's double the government's social distance. Meanwhile, the albino walrus has made sure that HE can go jogging with a friend. Every day now, I'm increasingly glad that I voted for an independent at the last election rather than Tory.