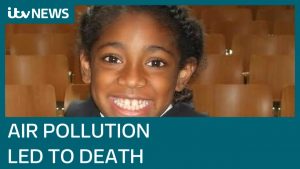 A win win win cunting for Rosamund Kissi-Debrah who will now be heading for the ambulance chasing lawyers to sue the arse off whoever she can.
She and her campaigning crew have managed to get air pollution added to the cause of death of her 9 year old daughter. Now the cause of death was respirator failure and severe asthma but as she lived virtually on the south circular and being next to a busy road the pollution levels were high (higher than EU standards) so she claimed that was the cause of death.
She claimed that during the period between 2011 and 2013 when the daughter had several attacks no one mentioned that pollution could have been an issue, I don't believe this for one minute, this woman is a teacher so you would assume minimal intelligence and pollution was a know factor in triggering Asthma attacks.
She said that had she known about pollution in her area she would have done something to protect her daughter.
Well maybe a little research and asking questions may have given her a clue but since her daughters death she has become a campaigner, tried to get into Parliament, latched onto the Suckdick roadshow and is something or other with the WHO.
It won't be long before she is in the news outside the high court have successfully sued for damages
Nominated by: Sick of it