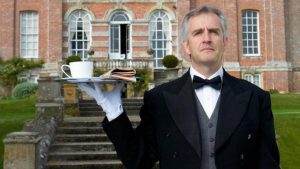 I should like to nominate butlers for a cunting. I have never met an honest one; they are a bunch of self-serving, drunken blighters who invariably work against their long-suffering employers rather than for them.
The latest transgression by my current butler (Arnold Shittern) is the wearing of a hazmat suit while going about his butlering duties and claiming it a necessary precaution against Covid-19.
You can imagine the impression created when visitors call. Despite being told repeatedly not to, he continues with this abomination, even when he's out picking up odds and ends from the local food bank.
Obviously this has its advantages – no one dares question his appropriation of all the champagne, oysters or caviar for instance – but I really detest being served afternoon tea by an urban spaceman and having half of it spilled in my lap by the incompetent blaggard.
Not only that, I hear from cook that during his aforementioned trips to the food bank, instead of obtaining supplies of the common groceries necessary for concocting meals for those Below Stairs, he is, after obtaining the important Upstairs items, loading the rest of the dog cart with crates of brown ale for his own consumption.
You really couldn't make it up.
Nominated by: Lady Chatterley