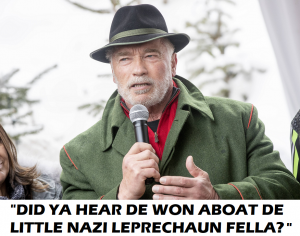 And Arnold Schwarzenegger is a cunt.
Amongst the predictable and one sided 'outrage' and hysteria coming from Hollyweird and the MSM, we have Arnie actually comparing the recent shindig on Capitol Hill to the Kristallnacht of 1938. This bullet headed Kraut (Austrian?) said that the Proud Boys were the modern SS and that last week's protest was on a par with Hitler's firm led by Heiydrich persecuting and killing Jews. How this cunt – who isn't even American for a start – has the fucking nerve to even think such utter shite, I will never know. A complete insult to every person who fought the Nazis or who suffered by their hands I would say.
This meat headed peanut brained cunt should stick to doing crap action movies. This uneducated knuckle dragger wants to watch episode 1 of The World At War and then see how 'similar' these events are. An early candidate for cunt of the year 2021.
(Given his name sounds a bit like the N word, shouldn't he have been cancelled by now? News story is here – NA)
Nominated by: Norman