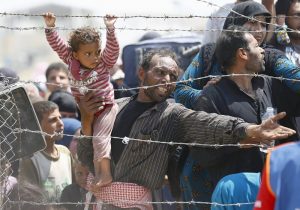 The illegal immigrant parasites who are currently infesting Penally camp in Pembrokeshire. Apparently unhappy with their (in my opinion) overly generous accommodation at an MOD transit camp in Wales, these cheeky fuckers have decided to protest about the distinct lack of a four star hotel. They've taken to standing outside the camp with badly spelled slogans written on pieces of cardboard, to bemoan their current living conditions. One of them had written "I am not in British Arm". Nice try, Sabu, but you forgot to add the Y at the end.
It boils to my piss to volcanic temperatures to see these entitled parasites doing such a thing. They're ALREADY living in better conditions than they did in Calais. They have a roof over their heads, three meals a day, medical care, clothing. All of which is being paid for by us, the taxpayer. They're getting everything they need to live, but giving nothing back, except ingratitude. I've been to Penally camp. It's basic, but like I said, it's a damn site better than Calais.
Considering these freeloading parasites came here uninvited and unwanted, they have nothing to complain about. And there's something else missing here, all the pious, self-righteous lefties, who have previously been so keen for the government to let the entire world settle here, have been conspicuous by their silence. Only a few weeks ago, Lineker claimed he was taking in a parasite, yet even now, nobody has seen them, and the only 'proof' has been a letter of thanks, allegedly written by said parasite, which, suspiciously, contained criticism of the Tory government.
Between them, jug ears, JK Rowling, Emma Thompson and all the other pro-parasite morons could easily pay for the entire camp at Calais to be brought to the UK and housed indefinitely. But none of them have said a fucking word. As far as I'm concerned, the Penally parasites have NO right to complain. Having come here illegally, they are criminals. They should be in prison. They're uninvited, unwanted and there is a noticeable lack of females, children and elderly people. And now they have the fucking nerve to whinge about their accommodation. Here's an idea, if you don't like it, fuck off back to Calais.
Nominated by: Quick Draw McGraw