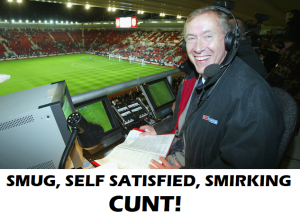 These days I only bother watching football on Sky/BT via VPN as background noise. But what really irritates me (among many other things, not least bending the fucking knee and Linecunt), is how the commentators are so up-the-arse of some footballers.
How often have we heard them say "He's a talent", "He's got a wise head on young shoulders", blah blah blah. But none of them have the balls to say anything negative!
Even if a player is playing badly they won't come out and say "This player is fucking shit. Klopp needs to get the cunt off now!" (admittedly I'm exaggerating just a tad)
Similarly with post-match interviews with players/managers. Commentators always suck up rather than telling it like it is. Something like ….
"David Moyes. You lost 3-0. What the fuck were you playing at you stupid cunt?" would be the question most fans would ask.
But instead the commentators will be more diplomatic and say "A disappointing result, David?"
Cunts.
Nominated by: Technocunt