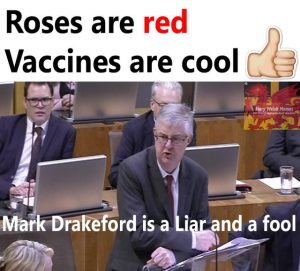 A super duper mega two fisted cunting nomination for the chinless gormless dear leader of the Democratic People's Republic of Wales Mark Drakeford. Not only is this spunk bubble a nonce-siring, jizz gargling old senile fart whose got to his position through the back door by sucking as much red cock as humanely possible, content with wasting taxpayers money on nationalising services, even though his party cannot be trusted given their record in Wales with the beloved holier than thou NHS and raising taxes on people's grog, but has used his powers (which, by the way have not been democratically handed to him by the people) to point score against Boris, doing different just to undermine the prime minister, letting the power turn his pinko brain to slush and getting drunk off the Ego boost from it!
For this hard left authoritarian clown (no one's laughing though) wants to send Wales back to the dark ages with a punitive lockdown, with no science to back up his thinking, with ridiculous restrictions that curb people's liberties for 'the greater good' (where have we heard this kind of dogma before kids?) And shut down the entire economy bar essential goods – going to the lengths of forcing supermarkets to ban sales of items such as clothes, yet sell fags and booze and scratchcards, in a move that will cost the Welsh economy £500 million pounds (and that's if it's not inevitably extended by him and his cabal of power crazed Marxists) and no doubt lead to hundreds, if not thousands of decent hard working people who are working their bollocks off to make ends meet losing their jobs or their businesses and benefits no-one with the punitive rules, apart from the government's idealogy of envy and greed forcing more people to be reliant on the state and for the state to gain even more power and right to scare-monger, control and bully the people of this nation.
Give it a few years and these bunch of clowns will be demanding independence (no doubt crying the nasty English plundered all its resources, even though England basically funds the entire UK and enforcing that Gobbledy-gook they spout on pobol y Cwm on a population that almost exclusively speaks English, apart from half a dozen druids in Fishguard and some old lady in Rhyl), calling to reopen the mines to fund it (good luck doing that in today's health and safety world, where it pays to go on the dole, getting Geraint from the Rhondda away from his state funded semi detached, his 42 inch plasma with sky games, his baccy and beers and the food bank feeding him so he can spend his loot on the latest games console and down the mine, and good luck trying to sell that, or what's left of it in an increasingly post industrial world) and increasingly turning Wales into even more of a third rate backwater state than it actually is!
The worst thing is though…. The Welsh are actually thick enough to buy this anti-english, anti-tory hate rhetoric (even though socialism in Wales has a rich history of success, right? Education, living, health and economic standards are through the roof of course) to vote these jokers back in because 'we're not Tory scum, and they'll pay our benefits!'
Nominated by: The Cuntinuity Candidate