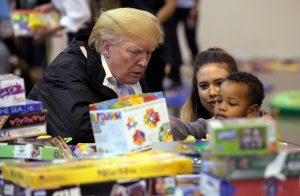 (Donald, hard at work – DA)
"Infamy ! Infamy ! They've all got it in for me !" Yes, the 'man?' the world loves to hate just for his usual lies, has outdone himself and left media, newstations & historians speechless, as he slags off the very democratic electoral system that put him in office for the past 4 years.
In general, Don 'knows' the election is a huge fraud, that everyone is in on, & sleepy Joe & the democrats are stealing the presidency from him, when he'd already 'won' the election on Nov 4th.
so…
1) The 'fraud' is being carried out by Democrats, big business, big media & the rich elite.
2) How could I be 500,000 votes ahead on election day & now my lead's being whittled away by all these 'illegal' votes 'they' are finding – well Donny, you knew all along that post votes were being made. You decided to call them illegal & told your fans to vote on the day. You might still be getting Repub votes if you hadn't told them not to postal vote.
3) They are counting these votes secretly & won't let us near. Repubs are using 'binoculars'…WTF ! Debunked – all votes witnessed independently, video'd, CCTV, public viewing galleries.
4) Stop counting the votes ! they're all illegal if not done & counted on the day – many postal votes could have been counted before, but REPUBLICANS passed a law so they couldn't count till Election day over.
5) Keep counting the votes – where they are for me, not Joe.
6) Trot out my mob lawyer Gulliani & my useless family to makes false claims & frivelous law suites
7) Republicans nowhere to be seen – in fact Republican Senate & congress calling for all votes to be counted 'as the constitution & state laws require
8) Rile up all the gullible Trump supporters "Fraud" "stealing the election" – doesn't matter if it leads to division, distrust, violence, riots, deaths. America doesn't matter, as long as I have a reason why I was cheated.
9) US soldiers, farmers, workers, nurses, doctors, all the 'good' Americans voted for Trump – Rich, elite, liberal, big money all 'bad' Americans voted for Democrats.
10) If the election is 'rigged', how come you got record voters Trump ? & how come you've won a lot of close counts ? if it was rigged, Dems wouls have got 270EC on election day & wouldn't be waiting for count to finish.
You might be a selfish Ego Maniac, but please don't trash your own country & get your own voters killed by making wild accusations, telling lies, wasting everyone's time with pointless legal cases & playing a victim while America burns.
Nominated by: Lord of the Rings